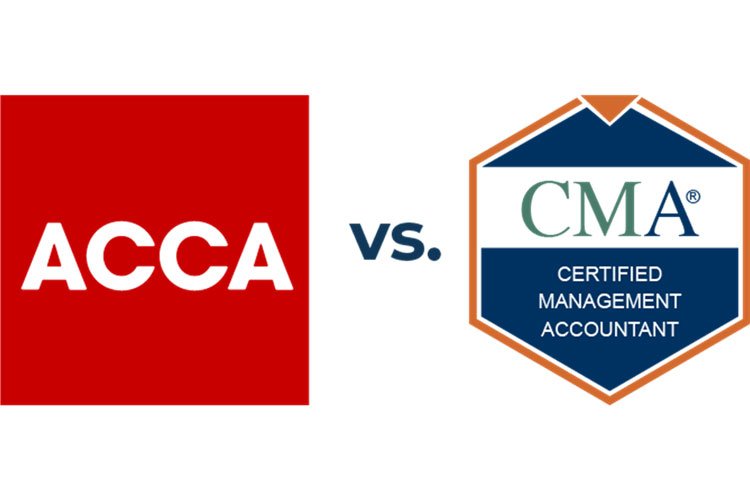 Comparison between ACCA and CMA qualifications
In the world of accounting and finance, earning a professional qualification can significantly enhance career prospects and open doors to exciting opportunities.
Two popular designations that aspiring accountants often consider are the ACCA (Association of Chartered Certified Accountants) and CMA (Certified Management Accountant). While both qualifications offer valuable skills and knowledge, there are distinct differences between the two.
In this article, we will compare the ACCA and CMA qualifications, shedding light on their respective strengths and helping you make an informed decision about which path to pursue.
Focus and Scope:
1. ACCA: The ACCA qualification provides a broad-based education in accounting, finance, and business management. It covers various aspects, including financial reporting, auditing, taxation, financial management and corporate governance.
ACCA is globally recognized and is suitable for those aspiring to work in diverse roles such as general accounting, audit and assurance, tax planning, financial services, or corporate finance.
2. CMA: The CMA qualification focuses on management accounting and is more centered on financial planning, analysis, and decision-making within organizations. It emphasizes strategic management, performance management, and cost accounting.
CMA is particularly relevant for professionals interested in roles like financial management, budgeting, and strategic planning.
Exam Structure:
1. ACCA: There are 13 exams in total in ACCA qualification which are divided into three main levels: the knowledge level, the skills level and the professional level.
The first four exams are on demand and a student can appear for these exams at any time during the year. Remaining nine exams can only be taken quarterly during March, June, September and December exam sessions on predetermined dates.
Each exam has total of 100 marks and a student is required to score minimum 50% marks to be successful in the exam.
2. CMA: There are only two exams in CMA qualification which are commonly known as Part 1 and Part 2.
Each part comprises multiple-choice questions and essay questions, testing candidates' knowledge and skills in areas such as financial planning and analysis, performance management, internal controls, and strategic management.
CMA exams can be taken at any time during the CMA exam windows. A candidate must pass both parts by scoring at least 72% marks within a three-year period to earn the designation.
Global Recognition:
1. ACCA: The ACCA qualification is highly regarded globally, with members and students in over 170 countries. It is widely recognized by employers, regulatory bodies, and academic institutions, offering excellent international mobility for professionals seeking opportunities around the world.
2. CMA: The CMA designation is primarily recognized in the United States and Canada, although it is gaining recognition in other parts of the world including Middle East as well. It is particularly valued in industries such as manufacturing, technology, and healthcare, where strong management accounting skills are crucial.
Professional Experience Requirement:
1. ACCA: Alongside passing the exams, ACCA candidates must complete a minimum of three years of relevant practical experience to become full members. This requirement helps candidates apply their knowledge in real-world scenarios and develop the necessary skills for a successful accounting career.
2. CMA: To earn the CMA designation, candidates must possess a bachelor's degree and have at least two years of relevant professional experience in management accounting or financial management. The experience requirement is designed to ensure that CMA professionals have practical knowledge and expertise to make strategic business decisions.
Conclusion:
Both the ACCA and CMA qualifications offer distinct advantages and cater to different career aspirations within the accounting and finance field.
The ACCA provides a comprehensive education in accounting and finance, making it suitable for those seeking a broader skillset and global recognition.
On the other hand, the CMA focuses more on management accounting and is particularly relevant for professionals aiming to excel in strategic management roles within organizations.
Ultimately, the choice between ACCA and CMA depends on your career goals, geographical preferences, and personal interests. It is recommended to thoroughly research both qualifications, consider your long-term objectives, and seek guidance from professionals or mentors in the field before making a decision. Remember, whichever path you choose, earning a professional qualification can significantly boost your credibility and open doors to a rewarding and successful accounting career.
Study ACCA in UAE. ACCA course at Skyline University College Sharjah - ACCA approved learning provider.