Health and Safety
At Skyline University College, the health, safety and welfare of our students, employees and stakeholders are of paramount importance. Since the beginning of the COVID-19 pandemic, we have introduced enhanced cleaning procedures and protocols to ensure the safety and welfare of all stakeholders. We also work in line with the guidelines issued by the competent authorities and approved cleaning partners on an ongoing basis, so you can rest assured that our operational practices ensure an environment that is safe and secure.
Our teams are prepared, trained and ready to welcome back our students into our safe and inclusive environments.
Guidelines Fall 22- Skyline University College
Call for help, information and services related to the 2019 novel coronavirus (COVID-19) through the following channels:
Ministry of Health & Prevention at 800-11111
Estijaba service at the operation center –Department of Health – Abu Dhabi at 800-1717
In addition, virtual help is available through:
the chatbot service titled Virtual Doctor for COVID-19- Ministry of Health and Prevention (MoHaP)
the 'Doctor for every citizen' service which is available on the DHA mobile app on Google Playand App store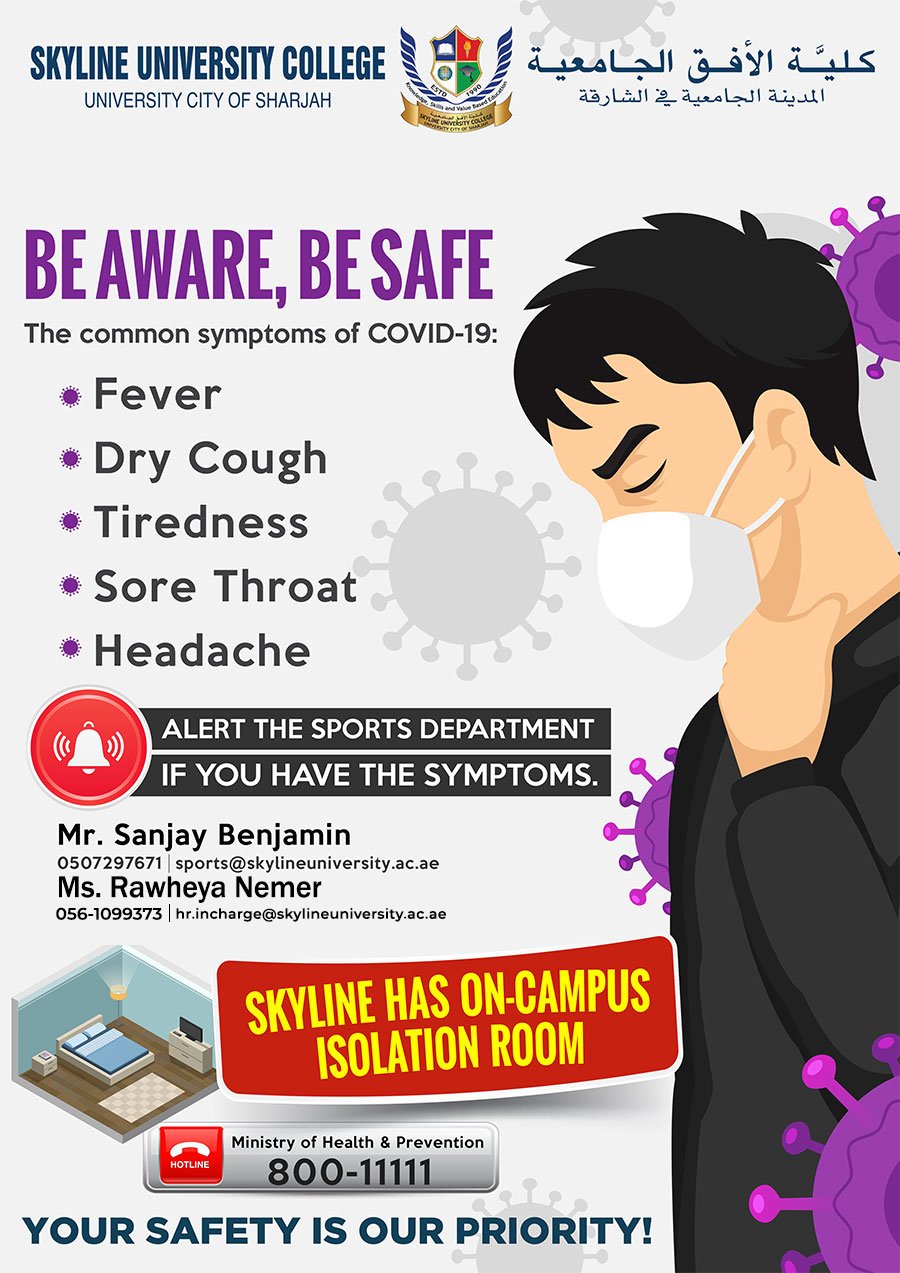 COVID 19 – FREQUENTLY ASKED QUESTIONS
COVID-19 is the disease caused by a new coronavirus called SARS-CoV-2. The World Health Organization (WHO) first learned of this new virus on 31 December 2019, following a report of a cluster of cases of 'viral pneumonia' in Wuhan, People's Republic of China.
What are the symptoms of COVID-19?
Are there long-term effects of COVID-19?
How can we protect others and ourselves if we don't know who is infected?
What test should I get to see if I have COVID-19?
What should I do if I have COVID-19 symptoms?
Is the vaccination important in general?
What is Pfizer-BioNTech COVID-19 Vaccine, and how does it workit works?
Who should take the vaccine?
Will the vaccine give protection from the COVID-19 virus?
What are the side effects of the vaccine?
Refer for further info and Sources:
https://u.ae/en/information-and-services/justice-safety-and-the-law/handling-the-covid-19-outbreak/faqs-about-coronavirus-covid-19
https://www.doh.gov.ae/en/covid-19/faq