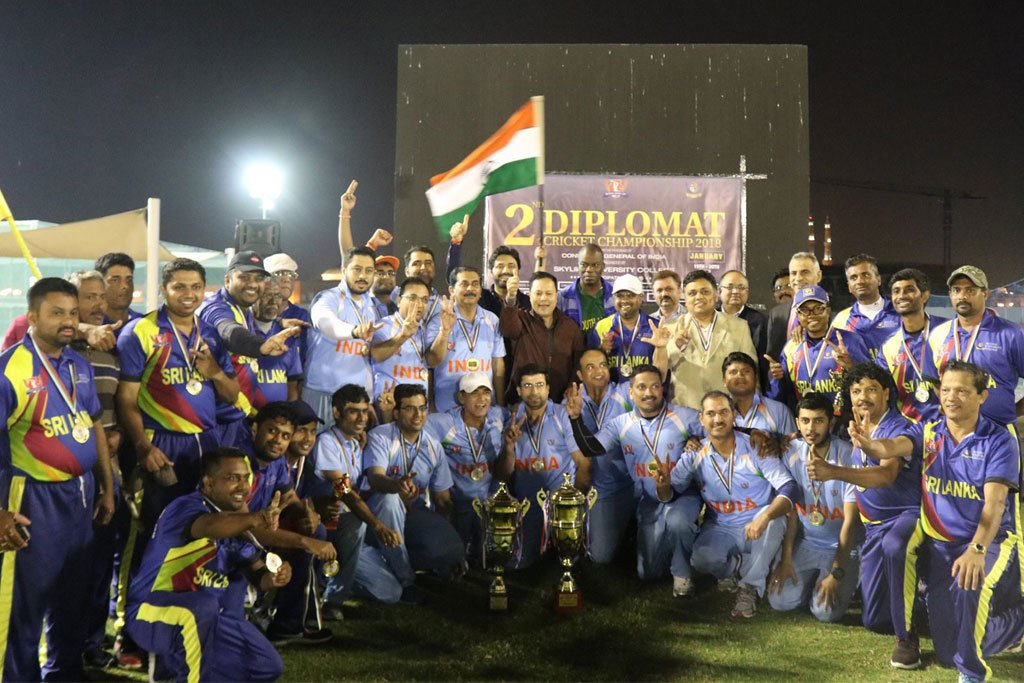 The Consulate General of India was declared the new champion of the 2nd Diplomat Cricket Championship Cup held yesterday, January 20, 2018, at Skyline University College cricket ground.
The team beat Sri Lanka by 44 runs. Congratulations, India!
SUC would like to thank all the participating teams, Consulate of India, Consulate of South Africa, Consulate of Bangladesh, Consulate of United States of America, Consulate of Sri Lanka, Consulate of Afghanistan, and Consulate of Pakistan for taking part in this annual sporting event.

CGI, Dubai is the official and permanent patron of the Diplomat Cricket Championship Cup and SUC as the official organizing partner.

INDIVIDUAL AWARDS:
Best Bowler: UDAY KUMAR, CG of India
Best Batsman: SASIKANTH, CG of India
Player of the Tournament: SANJAY JASWAL, CG of India
Man of the Match (CG of Pakistan vs CG of India) – UDAY KUMAR, CG of India
Man of the Match (CG of Afghanistan vs CG of USA) – VIGESH, CG of USA
Man of the Match (CG of Bangladesh vs South Africa) – IEUAN CARNEY, CG of South Africa
Man of the Match (CG of Pakistan vs CG of USA) – AQIB, CG of Pakistan
Man of the Match (CG of Afghanistan vs India) – UDAY KUMAR, CG of India
Man of the Match (CG of Bangladesh vs CG of Sri Lanka): - RUKMAN KAHINGALA, CG of Sri Lanka
Man of the Match (CG of Pakistan vs CG of Afghanistan): N/A
Man of the Match (CG of India vs. CG of USA) – SASIKANT, CG of India
Man of the Match (CG of Sri Lanka vs CG of South Africa) – RANIL DR SILVA, CG of Sri Lanka
Man of the Match (CG of India vs CG of Sri Lanka) – RAJARAM, CG of India
https://www.facebook.com/media/set/?set=a.1549358938434618.1073741987.165612570142602&type=3
 https://www.skylineuniversity.ac.ae/gallery/?2nd-diplomat-cricket-cup