I. ENVIRONMENT, HEALTH AND SAFETY (EHS) POLICY
Skyline University College (SUC) aims to protect the environment, health and safety of its students and employees by implementing all the necessary policies. SUC has an exclusive Environment, Health and Safety (EHS) policy to meet this objective in line with the OEHSMS General Framework Version 1.1 of EHS Directorate, Ministry of Education (MoE), UAE. It aims to best manage the anticipated risks, reduce and control risks in order to preserve employees, students and other persons (i.e. visitors, contractors and service providers) and to protect the environment and its sustainability during regular operations and emergency situations at SUC. The policy also includes the mechanism of implementation, monitoring, assessment and auditing, the procedures of emergency, disaster and crisis management, accidents reporting and investigation, periodical management review for its continual improvement.
SUC as an institution and all the other its departments and sections have clear allocation of responsibilities in place for implementing this EHS policy.
II. SUSTAINABILITY INITIATIVES
SUC incorporates sustainable practices at the program level, University College operations, Community engagement and faculty members' research.
a. Program level – Undergraduate course in Innovation Entrepreneurship and Sustainability
SUC conducts Innovation Entrepreneurship and Sustainability course which enables undergraduate students to understand the elements of sustainability and its role in the development of the economy. Students understand the impact of sustainability and are capable of evaluating strategies used in managing natural resources and sustainable economic development.
b. Research in the areas of Sustainable development
SUC encourages faculty members to carry out research in the areas of Sustainable development and contribute to the body of knowledge in the field of Sustainability.
c. Community awareness program on sustainability
SUC organizes the event of World Water day annually in cooperation with government and non- government agencies to create awareness about conservation of water resources during the United Nation's World Water Day.
d. Sustainability in University college operations
SUC creates awareness among the users about the optimum use of resources such as water and electricity consumption by sending awareness emails at regular intervals. It also uses environmental friendly and low water consumption sprinklers to reduce wastage of water resources. All employees are encouraged to turn off lights and switching off all equipment, tools and electrical appliances, including the computers and printers, before leaving the premises after their work
III. STUDENT PARTICIPATION IN SHARJAH SUSTAINABILITY AWARD
The Sharjah Environment and Protected Areas Authority has launched the Sharjah Sustainability Award (SSA). The idea for launching the SSA emerged in 2012 with the consent and formal adoption by the Sharjah Executive Board, in response to the vision of H.H Sheikh Dr. Sultan Bin Mohammed Al Qasimi, Supreme Council Member, Ruler of Sharjah, on the importance of developmental sustainability through protecting the environment natural resources, wild life and its biodiversity. The significance of launching this award lies in engaging and inspiring all students and individuals in schools and universities to develop their perceptions of projects, ideas and independent activities to improve and upgrade their environment to the rank of globally green sustainable environment.
SUC students participate in the Sharjah sustainability award under the guidance of the faculty members. The achievement of SUC students in the Sharjah Sustainability Award is highlighted below: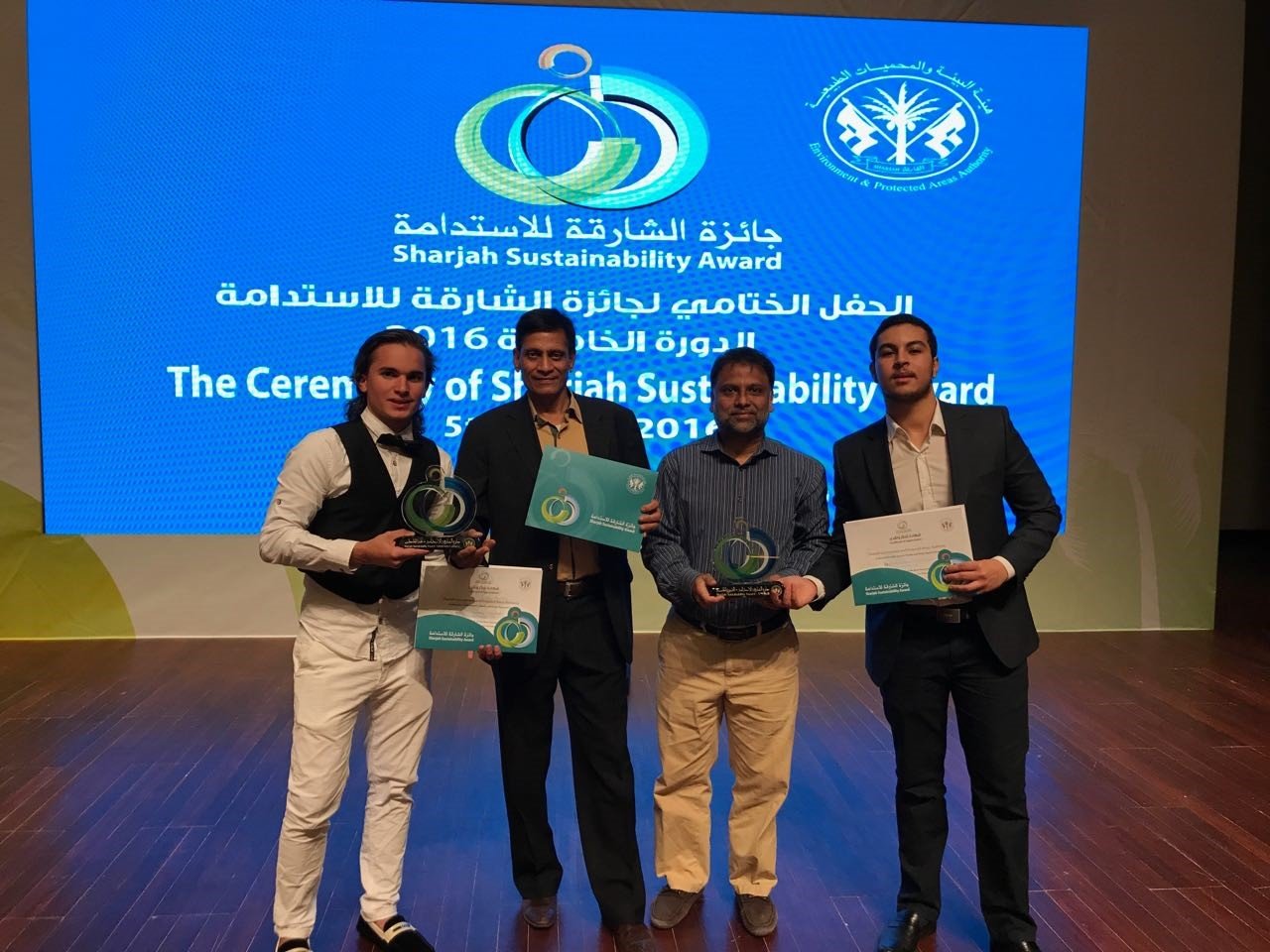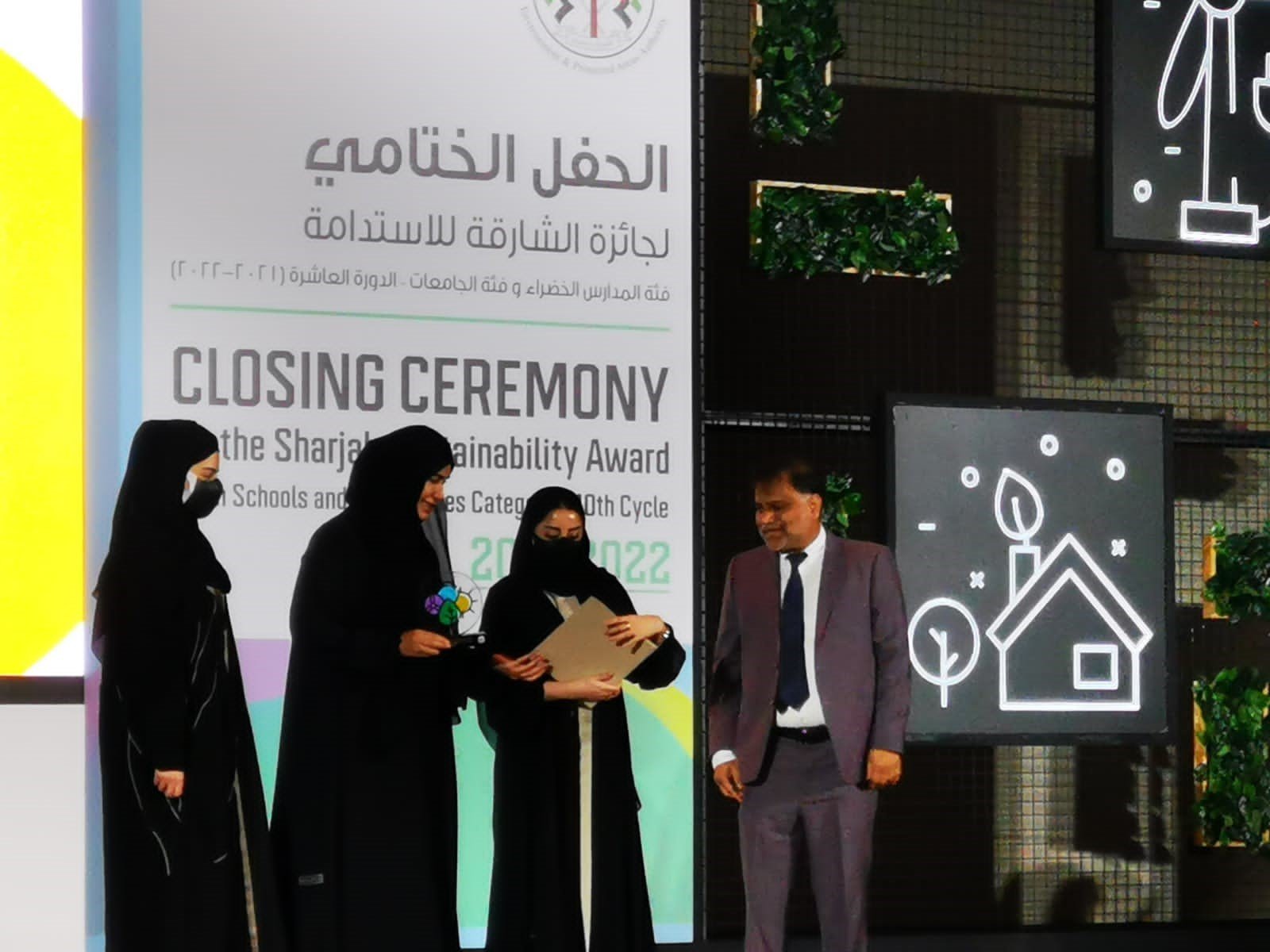 IV. ENVIRONMENTAL SUSTAINABILITY INDICATORS