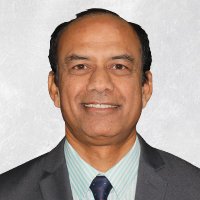 Educational Background:
Equalized by Ministry of Education (MoE), UAE for Ph.D. (Management Science)
Ph.D. in Supply Chain Management from Jawaharlal Nehru Technological University (Government University), JNTUH, Hyderabad, India, 2011-2017
M. Phil in Management from Alagappa University, Tamilnadu, India, August, 2006
MBA from Indira Gandhi National Open University, New Delhi, India, December, 1999
M.Sc. (Tech) in Exploration Geophysics, Centre of Exploration Geophysics, Osmania University Campus, Hyderabad, India 1986 – 89
B.Sc. from Osmania University, Hyderabad, India 1983 – 86
Ph.D. Details
Ph.D. Title: "A Study of Supply Chain Management in Medium Sized Manufacturing Companies"
Brief Description of Ph.D. Work: Developed a Supply Chain Model for Micro, Small and Medium Size Enterprises (MSMEs) and validated it using Multivariate Discriminant Analysis (MDA) technique. The research was an empirical study conducted for four years from 2011 to 2015 in Telangana State of India covering 138 medium sized manufacturing enterprises belong to various sectors.  Submitted the thesis in 2015 and obtained the PhD degree in 2016
Work Experience:
With 29 years (12 years in Industry and 17 years in Teaching) of experience
Assistant Professor, Skyline University College, Sharjah, UAE since 6th September 2017 (3 years)
Associate Professor, Vignana Jyothi Institute of Management, Hyderabad, India, 17th Feb 2010 to 31st Aug 2017 (6 years 10 months)
Senior Faculty Member & Center Head, Regional Academic Coordinator, ICFAI, Hyderabad, India, 2003 – 2009 (6 years)
Senior Geophysicist, Mineral Exploration Corporation Limited (A Government of India Enterprise), India, 1990 to 2000 (10 years)
Certifications and other info relevant to teaching and research:
Areas of Research: Logistics and Supply Chain Management, Total Quality Management, Production and Operations Management, Project Management, Service Operations Management, Process Control Improvements, Lean Management, Six Sigma, Purchase Management.
Publications

Ramakrishna, Y. (2021). Investigating the influence of organizational factors on supply chain awareness, Operations and Supply Chain Management, Operations and Supply Chain Management, 14(2), 189-202.
Alzoubi, H., & Yanamandra, R. (2020). Investigating the mediating role of information sharing strategy on agile supply chain. Uncertain Supply Chain Management, 8(2), 273-284.
Yanamandra R, (2020), Development of Supply Chain Framework for the Circular Economy in Handbook of Research on Entrepreneurship Development and Opportunities in Circular Economy, Neeta Baporikar, IGI Global, 231-250. ISBN13: 9781799851165, DOI: 10.4018/978-1-7998-5116-5.ch012
Yanamandra R, (2020), Leadership Model for Supply Chain Management in Business Schools in Leadership Strategies for Global Supply Chain Management in Emerging Markets (Ashish Dwivedi), Chapter - 8,
Ramakrishna, Y., & Sakkthivel, A. M. (2020). Development and Implementation of Integrated Quality Management Framework in Management Education. In M. Sony, K. Karingada, & N. Baporikar (Eds.), Quality Management Implementation in Higher Education: Practices, Models, and Case Studies (pp. 200-216). Hershey, PA: IGI Global. doi:10.4018/978-1-5225-9829-9.ch010
Yanamandra, R; A Ramesh (2019), Motivating the stakeholders through a contest based mobile application for promoting and rewarding sustainability initiatives, Skyline Business Journal, 15(2), 30-40.
Yanamandra, "A Framework of Supply Chain Strategies to achieve competitive advantage in Digital era," 2019 International Conference on Digitization (ICD), Sharjah, United Arab Emirates, 2019, pp. 129-134, doi: 10.1109/ICD47981.2019.9105913
Ramakrishna Yanamandra (2018)., "Development of an integrated healthcare supply chain model", Supply Chain Forum: An International Journal, Vol. 19, Issue 2, pp. 111-121, DOI: 10.1080/16258312.2018.1475823
Ramakrishna Y., (2016), "Supply Chain Management – Large Vs. Small and Medium Enterprises", Innovative Solutions for Implementing Global Supply Chains in Emerging Markets, DOI: 10.4018/978-1-4666-9795-9.ch009, IGI Global
Ramakrishna Y., Bhat M.S., Sindhu (2015), "A Review on Supply Chain Management (SCM) by SMEs as a Strategy to Achieve Global Competitiveness", Review of Professional Management, A Journal of New Delhi Institute of Management, ISSN: 0972-8686,. 13(1), pp 39-49
Ramakrishna Y., Bhat M.S., Sindhu (2014), "Supply Chain Innovation – A Literature Review", Materials Management Review, Published by Indian Institute of Materials Management, ISSN 2320-0758,10(12), pp 14-17
Ramakrishna Y., Bhat M.S., Sindhu (2014), "Supply Chain Excellence through Human Resources Excellence", Materials Management Review, Published by Indian Institute of Materials Management, ISSN 2320-0758, 10(5), pp 8-13
Ramakrishna Y., Bhat M.S., Sindhu (2013), "Coordinated Supply Chain: A Key for the success of SMEs", Materials Management Review, Published by Indian Institute of Materials Management, ISSN 2320-0758, 10(1), pp 6-11
Ramakrishna Y. 2009, "Factors that would facilitate a continued Retail boom in India" – Published in ICFAI Journal of Marketing Mastermind, June – 2009.

Conferences

Ramakrishna Y., Bhat M.S., Sindhu (2014), "Talent Management in Supply Chain Management Positions", ISBN: 978-81-910003-0-14 pp 409-413. Paper presented and published in the International Conference on Global Business Opportunities & Challenges, conducted by Department of Commerce, Osmania University, Hyderabad, India on 27-29, March 2014. 
Ramakrishna Y., Bhat M.S., Sindhu (2013), "Supply Chain Management: Large Vs. Small and Medium Size Enterprises (SMEs)", ISBN: 978-7384898-60-1 pp 201-211. Paper presented and published in the International Conference on Supply Chain and Logistics Management, conducted by BIMTEC, Noida, India and University of Hull, Yorkshire, UK on December 5-8, 2013.
Ramakrishna Y., Bhat M.S., Sindhu (2014), "Supply Chain Innovation: A Literature Review", ISBN: 978-93-83302-04-8 pp 1-6, Paper presented and published in the National Conference on Strategies, Innovations and Paradigm Shifts in Logistics and Supply Chain Management (LSCM), conducted by SDMIMD, Mysore, Karnataka State, India on 26th September 2014. 
Ramakrishna Y., Bhat M.S., Sindhu (2014), "Talent Management in Supply Chain Management Positions-Emerging Trends", Paper presented and got published in book (ISBN: 978-93-8342-10-0) released in the "International Conference on The Next Leap: Exploring New paradigms in Business" conducted by Centre for Business Administration, Central University of Jharkhand, Ranchi, India on 6th and 7th February 2014.
Ramakrishna Y., Bhat M.S., Sindhu (2013), "Strategies for Talent Management and Development for Supply Chain Management Positions – A literature review", Paper presented (in-absentia) and got published in the book (ISBN No: 978-93-82163-94-7) released in the National seminar on "Business Management in new era – Issues and Challenges" held on December 6-7, 2013 conducted by M. G. University, Nalgonda, Telangana State, India.
Ramakrishna Y., S. Durga Prasad (2010) "Competitive Advantage through Six Sigma DMAIC approach in service sector in India", National Conference on Operations Management 28-29th April, conducted by Vignan University, Guntur, Andhra Pradesh, India
Ramakrishna Y., (2008) "Leadership in Recession – An Empathetic or Indifferent approach" – Published in the souvenir released on the occasion of Regional Seminar in HR conducted by Andhra University, Vizag, India during 19-20th Dec 2008 (Presented the paper in the seminar).
Ramakrishna Y., (2008) "Seven factors for successful retail management" - Published in souvenir released by Vellammal Institute of Management, Chennai, India on the occasion of National seminar held on the theme of "Retail – the power factor."
Ramakrishna Y, Dr. PVL Ramana (2007) "Corporate Social Responsibility – trends and learning" -
Published in the souvenir released on the occasion of Regional Seminar conducted by Guruvayoorappan Institute of Management, Coimbatore on 6th October 2007
Ramakrishna Y. (2003), "Business Ethics Vs. Profit Maximization, A Company's Dilemma", Presented paper in the Regional Conference on Corporate Social Responsibility and Business Ethics, conducted by Global Education Center, Hyderabad