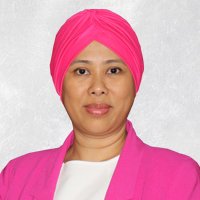 Educational Background:
Dr. Sharon holds a Master's Degree in Public Administration and a Doctor of Management major in Human Resource Management from the Notre Dame of Dadiangas University in the Philippines. Her Master's research paper on Ecotourism has been recognized and funded by the Local Government Unit and now the area has been developed as a tourist destination. Her Doctoral research paper opened an opportunity for scholarship amongst the members of the Philippine Army who are active in service and want to pursue their bachelor's degree in one of the colleges in her hometown at General Santos City, Philippines.
Work Experience:
She has three decades of work experience in the hospitality industry, government service, and the academe. Aside from teaching and research, she is also active in doing community services. She is a multi-awarded advocate of cancer and environmental awareness. She has been regularly invited as motivational keynote speaker in several events and forums nationally and internationally.
Academic and Research Interest 
Dr. Sharon has published research papers in reputed international journals. Her teaching and research interest areas include public health, international relations, comparative public administration, tourism, and human resource management.
Publications
Dreisbach, J.L. & Mendoza-Dreisbach, S. (2021) Unity in Adversity: Multilingual Crisis Translation and Emergency Linguistics in the COVID-19 pandemic. Open Public Health Journal, Bentham Science Publishers B.V., Netherlands

Dreisbach, J.L. & Mendoza-Dreisbach, S. (2020) The Integration of Emergency Language Services in COVID-19 Response: A Call for the Linguistic Turn in Public Health. Journal of Public Health, Oxford University Press, UK
Dreisbach, JL., Dreisbach ,SM. (2020). Occupational Stress Narratives of Migrant Healthcare Workers in the United Arab Emirates during the COVID-19 Pandemic. Journal of the Social Sciences Vol 48 (2), 1841-1851, 0253-1097
Angeles, R. C. C., & Mendoza-Dreisbach, S. (2020). Has the world caught on the Responsibility to Protect? Revisiting the Rwandan Genocide 25 years later. EDUCATUM Journal of Social Sciences, 6(2), 35-41. https://doi.org/10.37134/ejoss.vol6.2.4.2020
Angeles, R.C. & Mendoza-Dreisbach, S. (2020). Comparative Study on Indonesian and Philippine Marine Exploitation and The Fish Consumption. International Journal of Social Science and Business, 4(4), 506- 512
Dreisbach, S. M., Vij, M., & Dreisbach, J. L. (2020). Travel Motivations of Cancer Patients. In Global Developments in Healthcare and Medical Tourism(pp. 78-95). IGI Global.
Dreisbach, JL., Dreisbach, S. (2018). Female breast cancer as taboo: Cultural factors and awareness amongst patients and their families in the Philippines. GEOGRAFIA OnlineTM Malaysian Journal of Society and Space 14 (4), 201-211 e-ISSN 2680-2491
Dreisbach, S. (2009). Work Ethics, Values and Performance of the Officers of the 601st Infantry (Unifier) Brigade, 6th Infantry (Kampilan) Division, Philippine Army: Bases for Developmental Plan. Unpublished, Notre Dame of Dadiangas University, Philippines
Dreisbach, S. (2002). Ecotourism in Barangay Conel of General Santos City. Notre Dame Research Journal. General Santos City, Philippines
Conferences
Dreisbach, S.M., Vij, M. & Dreisbach, J.L. (2018 August 22 – 24) Travel Motivations of Cancer Patients and Survivors from United Arab Emirates and the Philippines. International Conference on Hospitality, Tourism, and Sports Management (HTSM) at Waseda University, Japan

 Dreisbach, S., & Dreisbach, J.L. (2017 August 23 – 25) Filipino Discourses on Breast Cancer as Taboo: Cultural Factors Hindering Awareness amongst Patients and their Families.  International Conference on Social Sciences (USM-ICOSS) at University of Sains Malaysia, Malaysia

 Dreisbach, S., & Llagas, C. (2014, March 31 – April 2). Republic Act 9003: Tool in Academe and Stakeholders Participation for Sustainable Watershed Rehabilitation in the Ecotourism Destination Philippines. International Conference on Tourism Milestone (ICTM) at Skyline University College, United Arab Emirates